The most popular legitimate housesitting websites are filled with great opportunities for house-sitters, offering a free stay in exchange for watching a pet or keeping a house duly occupied. There are a number of high-quality sites around the world for housesitters and homeowners alike. But a keen eye is needed to watch out for housesitting scams, which abound like mushrooms in the forest after a rain.
See our Housesitting in California Guide for a list and summary of the main Housesitting platforms where you can find housesitting opportunities.
Google search results aren't immune to this. Today, I googled "house sitting california" and saw the following Google For Jobs box in the search results. If Google is crawling and serving up their results directly in search, then sites like The Job Network and HouseSitter.com must be legit, right? Unfortunately, maybe not, even though they have the veneer of legitimacy shellacked on them by appearing so prominently in search results.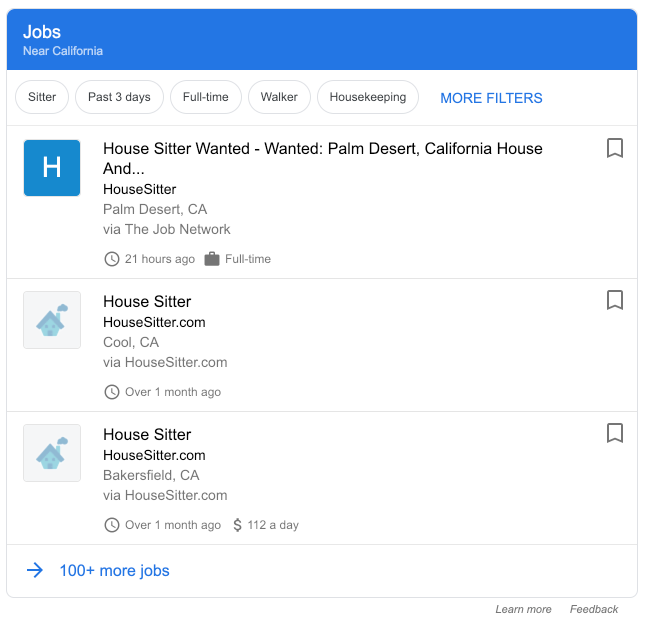 Let's take a closer look at these listings, of which there are hundreds or even thousands of so-called "opportunities." Here's one on The Job Network for Palm Desert, CA. Note the language about house-sitting experience – "it is not necessary to work with us."
Posting: I hope you are having a good day. I'm hiring a home sitter available in Palm Desert, California. I'm hoping to hire a skilled individual with occasional availability.

Services And Training: My family requires plant watering, pet and animal care, and bird feeding. Ideally, you have personal transportation available. Our best-possible candidate would have house sit multiple times before although it is not necessary to work with us.

Notes On Availability: We can be flexible for the right candidate.

Getting In Touch: You can reach out via this website and expect a response within 5 days. Location/Region: Palm Desert, CA (US)
How about this listing on HouseSitter.com from immacolata for Bakersfield, CA? Note that "it isn't mandatory to work with us."
Posting: Nice to meet you! My name is immacolata. I am hiring a house sitting provider available in Bakersfield, California. I hope to find a caring, skillful employee who has semi-regular availability.

Service Requirements: Our home requires help with plant watering, lawn maintenance, and light landscaping. It is preferable if you have personal transportation available. The ideal housesitter would have multiple months of prior experience however it isn't mandatory to work with us.

Notes On Availability: We can likely work around your schedule.

How To Apply: Shoot me a message and I'll try to get back shortly!
Perhaps you might be interested in this gem in San Francisco, where prior experience for the hopeful "hard working employee with one-off availability… is not required to be hired." And like the others, this person really hopes I'm having a good day.
About The Job: I hope you are having a good day. I'm looking to employ a caretaker working in San Francisco, California. I plan to chat with a hard working employee with one-off availability.

Service Requirements: My family requires help with property watching, pet and animal care, and light landscaping. It is preferable if you have experience training pets. The ideal employee would have multiple months of prior experience however it is not required to be hired.

Other Availability: We have flexibility if you do.

How To Apply: Message or phone call, via this website and I'll try to get back shortly!
Who's Behind Unscrupulous Housesitting Listings?
At least some of this garbage appears to be propagated by PandoLogic, which appears to power The Job Network, among other websites. They sell a "programmatic recruitment advertising platform" that uses "predictive algorithms, machine learning and AI." All those listings filling up job sites and Google? Pando calls that "Programmatic Job Ad Distribution."
Sites such as HouseSitter.com are not designed to serve as a platform connecting house sitters and homeowners. They are designed to build email lists and to rope unsuspecting users into paying a recurring subscription fee. But what are users paying for? The above listings aren't real jobs, and apparently the housesitters may not be either – as a commenter points out, the same people are commenting on different jobs in different cities.
Let's take a look at another example on snagajob.com. This site shows similar listings from HouseSitter.com.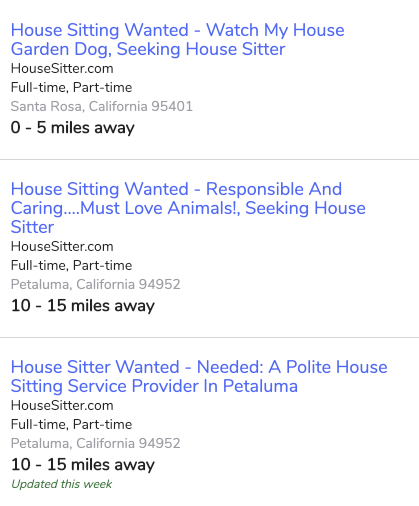 A closer look at one of the listings is quite revealing. First of all, there is obvious content spinning, be it "artificial intelligence" or some other algorithm. No one would write "Pick them up my mail." This listing is also far more brazen in offering a hook – it asks you to post a free profile to be matched up with an employer. But I thought this was a home owner looking for a house sitter for 2 weeks, right? Well, perhaps not, and this is a red flag for anyone looking for real housesitting opportunities.
I need somebody to watch my house for 2 weeks during the last two weeks of August 2017 and somebody that has extensive Horticulture experience as well to take care of my commercial vegetable garden. Pick them up my mail feed my animal turn the lights on and off. Also somebody that can take care and manage any problems with the estate while I'm gone


At Housesitter.com we help house sitters find their ideal job. Match with families and individuals who are looking to hire a caretaker.


Interested in finding housesitting and home care related work? Apply to this job, post your profile for free, and match with an employer today! Hundreds of house sitter jobs available.
Don't Be Duped By Housesitting Sites That Look Legit
Let's revisit the search that got this all started: house sitting california
Below the Google For Jobs box, we see housesitter.com ranking #2 in the remaining organic search results (they've dropped to #3 behind us as of July 2022). Surely, they must have high-quality, original content offering real value and a clear proposition to site visitors, no?

Surely, the very first listing on housesitter.com's "House Sitting Jobs in California" page would be legit, one might assume (wrongly).
JoAnn is offering a "Home Carer Opportunity". She plans to "chat with a good, great candidate." Absolute garbage cluttering the web.

Housesitter.com says "Will steal and scam you"
I was contacted recently by someone who had come across housesitter.com, signed up for free, and became alert to "odd posts and unlikely needs." I followed up and Googled it a bit, and came across this remarkable search result (no longer showing on the first page of results as of July 2022, but the listing is still live):

What on God's green earth is going on here?? Let's take a look at the listing itself – surely that search result doesn't reflect the actual listing, does it? Holy cow, it's worse! This is still live as of July 2022, five years old!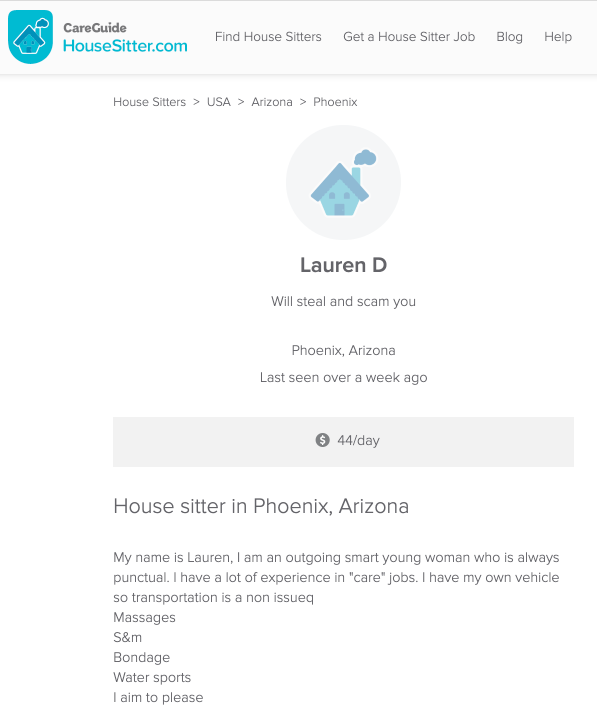 Not only does Lauren D, an "outgoing smart young woman" promise to "steal and scam you," she apparently has expertise in "Massages, S&m, Bondage and Water sports."
Here's the listing's Meta Title:
<title>Will steal and scam you – House Sitter in Phoenix, AZ | HouseSitter.com</title>
And here's the listing's Meta Description:
<meta content="My name is Lauren, I am an outgoing smart young woman who is always punctual. I have a lot of experience in &quot;care&quot; jobs. I have my own vehicle so transportation is a non issueq Massages S&amp;m Bondage Water sports I aim to please" name="description">
Obviously you don't want to hire Lauren to watch your house, unless of course you're in need of some serious dungeon maintenance.
Even Housesitting.com Knows They Have Scammers!
A little more Googling shows us that Housesitting.com itself knows that scammers are using their platform. Their advice is to "Avoid Scams," haha! Great advice!
They also suggest that if you see a scam, you contact them. But guess what? That Lauren D. post above (the one with water sports and bondage, OMG) was published on August 31, 2017 – it's been live almost five years!
Why Housesitting Scams are a Problem
Here's why all this isn't at all benign – users are being roped into giving up personal information based on what appears to be a real listing, but isn't. CareGuide, which is a network of sites including HouseSitter.com and MeetaHandyman.com, wants users to sign up for a paid subscription. For what, exactly? I thought someone in Santa Rosa just needed a house-sitter for 2 weeks, no?
Don't take it from me. Take it from the Better Business Bureau, which shows 18 complaints lodged against CareGuide.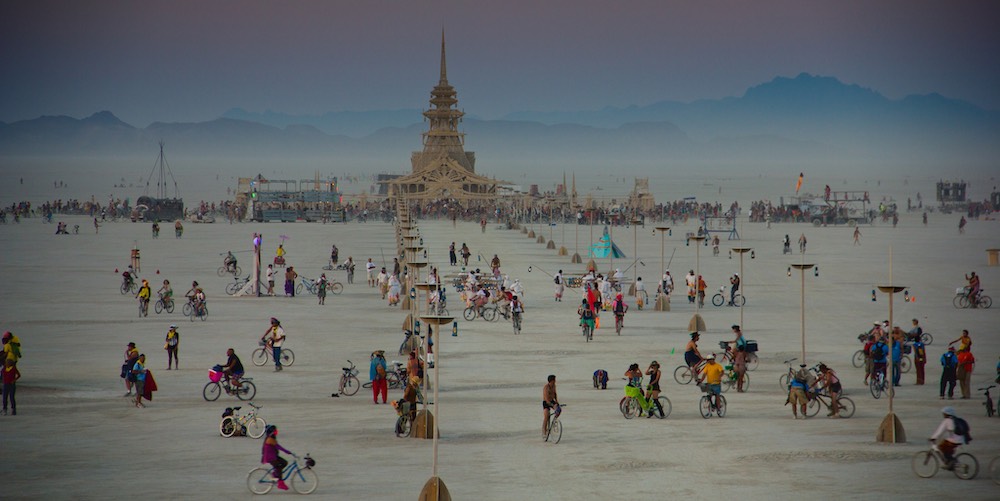 Unethical House-sitters
Here's a horrific story about a San Francisco couple that was headed to Burning Man, and left their apartment in the care of a house-sitter who subsequently listed that apartment on Airbnb for $2,000 for five days!
In case that's not clear: a couple thought that an ethical person was housesitting for them while they were out of town. Instead, he listed their place for $400 a night on Airbnb! That's crazy!
The house-sitter said it was just a misunderstanding, but now he's the target of a civil suit. Trusted Housesitter, the platform that connected the couple with the scammer, threw up their hands and said, hey, you didn't use our messaging app, so you're on your own.
This is just a remarkably unfortunate situation where the trust that homeowners imbue in a house-sitter was apparently grossly violated. It definitely stands as a cautionary tale.

Safety in Housesitting
If you are looking for house sitting opportunities, or you're a home owner looking to find good, reliable people to watch your home, keep in mind that there are any number of scams and schemes out there. Like mushrooms after the rain, they pop up all over. The seeming sheen of legitimacy offered by prominent Google results loses its luster once you do a little digging. Safe hunting!
LAST UPDATE: JULY 4, 2022