Who watches the horses when the owners travel? Housesitting is an agreement between a homeowner and a house sitter. This agreement allows the homeowners to leave their homes and travel wherever they want while the house sitter takes care of their house. You'd be surprised to learn that the concept of house sitting and horse sitting is very familiar to that of babysitting.
People can easily hire trustworthy individuals to take care of their homes while they are away. These house sitters are accommodated in the same home or a nearby place, such as an ADU or granny flat. In most cases, the accommodation is free so that these homeowners have no difficulty when sitting for your home.
Professional house sitters move into your property so that they can take care of your home and pets (if you have any). Instead of leaving your home unattended and at risk, it is best to hire house sitters to ensure it remains safe from unwanted guests and maintained the entire time the homeowners are away.
To ensure that house sitters do not cause homeowners any harm, it is best to draft a contract that states their responsibilities and consequences if they fail to comply with the contract. Housesitting can involve multiple responsibilities such as:
Surveillance Of The House – Your home might be in danger if you leave it unattended, which is why hiring a house sitter is important. They can take care of your home and keep an eye on it security-wise.
Respond To Calls – You might get several important calls while you are away, but if you hire a house sitter, they can respond to the calls for you. You can even instruct them about what they should say when someone calls.
Attend Visitors -There may be people who are not aware that you are away from home and might show on your doorstep. If they do, your house sitter can inform them about your absence and when you'll be back.
Cleaning The Place – Maintaining the home is vital to ensure everything is working and looks good. If a home is left unattended, it could gather dust and must be cleaned regularly to ensure you don't have to worry about cleaning it once you return.
Take Care Of Plants – Many people have a plant obsession and do not go on vacation for the sole reason that they do not have anyone to take care of their home. House sitters can do it for you, making sure your plants are watered regularly.
Take Care Of Pets – Many estate owners and homeowners have pets, and while they are away, they do not have anyone to take care of them. House sitters can also take care of your pets, feed and bathe them while you are not home. These sitters also offer excellent horse sitting services.
Do You Have Horses That Need Care?
Do you have a pair of stallions? If yes, it would be best to hire house sitters with experience in dealing with horses to ensure you can go to vacations without worrying about them. As majestic as horses are, it is important that someone takes care of them on a regular basis. Leaving them unattended would not be a wise idea, as they might get sick or hurt.
Homeowners are often greatly attached to their horses and want nothing but the best for them. This is why it would be best if you hired experienced horse sitters as they can feed your horses, exercise them if needed, and clean after them. You may not need to send your horses to a livery when you can easily take care of them while they are comfortable in their own space.
Stressing them by moving them to a new location is simply not worth it. A house sitter can look after as many horses as you have. They can offer services such as:
Feeding Horses – Before leaving, instruct your house sitters about the feeding details, and they will ensure that all your pets are well taken care of.
Exercising Horses – You wouldn't want your horses to miss your presence too much, so you can ask your house sitter to exercise them every once in a while. You can also decide whether you want the house-sitter to ride on your horses or not.
Cleaning Horses – A clean environment is vital for your horse's health. House sitters can manage your stables, the horses in it, and groom them to ensure they always remain neat and tidy.
How Does House Sitting Work When You Have Horses?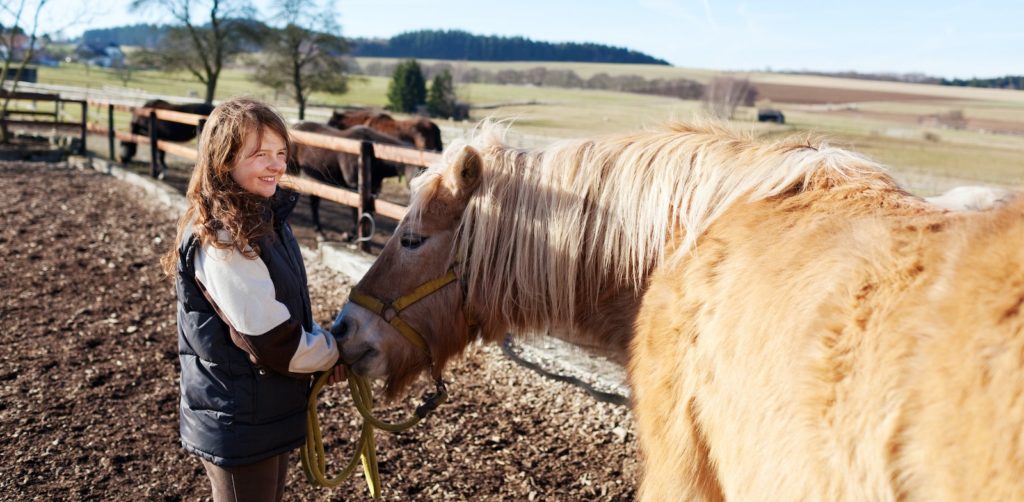 When hiring a house-sitter for your home and horses, you must make sure the prospective house-sitter(s) have some experience dealing with horses. It's imperative that you find great house-sitters you can trust. After all, these house-sitters move into your home while you are away and take care of both your home and your horses.
No matter what kind of horse you have, you can find house sitters who are trained to coach, ride and provide medical aid, making sure your horses are in good hands. However, it is very difficult to leave your animals in the care of other people, which is why homeowners must be very particular about the house sitters (and horse sitters) they choose. It would be best to choose horse-sitting house sitters with a good reputation and an excellent track record. Leaving your home with all your belongings is already stressful enough, and you should not have to worry about them being reckless or inattentive.
Keeping this in mind, it is essential that you only get house sitters from reputable organizations. Consider doing some research to learn about the different organizations and the house and horse sitting services they provide. Doing so will allow you to make a well informed decision, making sure you can get the best house sitters watching your home and horses. Once you choose a professional, consider asking all the necessary questions to ensure you have all your bases covered, making sure the house sitter abides by your instructions.
House sitting has loads of other benefits if you have horses. You will be able to enjoy your time away without any worries about your home or your horses.
What are the most popular cities and countries for housesitting for horses?
As you'll see below, the cities, states and regions here are most commonly associated with rural areas, where you're more likely to find horse ownership, stables, open land and so on. Feel free to contribute additional insight in the comments below!
United States – California, Colorado, Texas, Florida
United Kingdom – Kent, Sussex, Devon, Yorkshire
Australia – Victoria, New South Wales, Queensland, Western Australia
France – Provence, Loire Valley, Dordogne, Brittany
Italy – Tuscany, Umbria, Piedmont, Veneto
Canada – British Columbia, Alberta, Ontario, Nova Scotia
New Zealand – North Island, South Island, Waikato, Hawke's Bay
Spain – Andalusia, Catalonia, Galicia, Valencia
Germany – Bavaria, Baden-Wurttemberg, North Rhine-Westphalia, Lower Saxony
Portugal – Algarve, Lisbon, Porto, Madeira
Netherlands – North Holland, South Holland, Gelderland, North Brabant
Ireland – County Cork, County Clare, County Galway, County Kerry
Switzerland – Bern, Valais, Graubünden, Zurich
Sweden – Skåne, Västra Götaland, Östergötland, Jönköping
Denmark – North Denmark, Central Denmark, South Denmark, Capital Region
Belgium – Flanders, Wallonia, Brussels, Limburg
Norway – Sør-Trøndelag, Møre og Romsdal, Vestland, Rogaland
Austria – Tyrol, Salzburg, Carinthia, Lower Austria
Finland – South Ostrobothnia, Central Ostrobothnia, Pirkanmaa, Ostrobothnia
Czech Republic – South Bohemian, South Moravian, Moravian-Silesian, Olomouc
LAST UPDATED: January 3, 2023